"To Leave is to Die a Little"
Alisha Wessler

Exposition du 10 juin au 27 juil. 2022
En partenariat avec Moly-Sabata (Fondation Albert Gleizes, Sablons)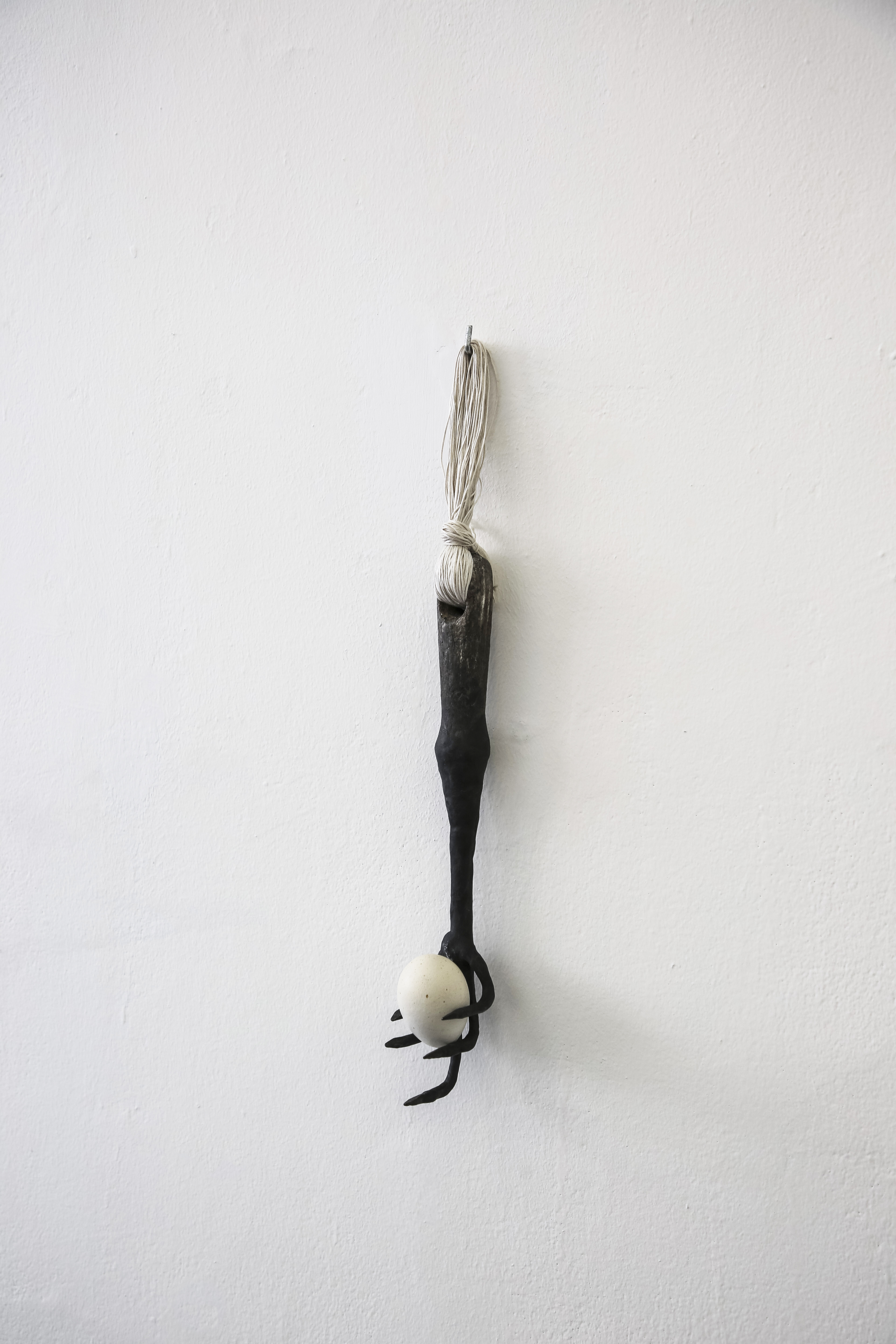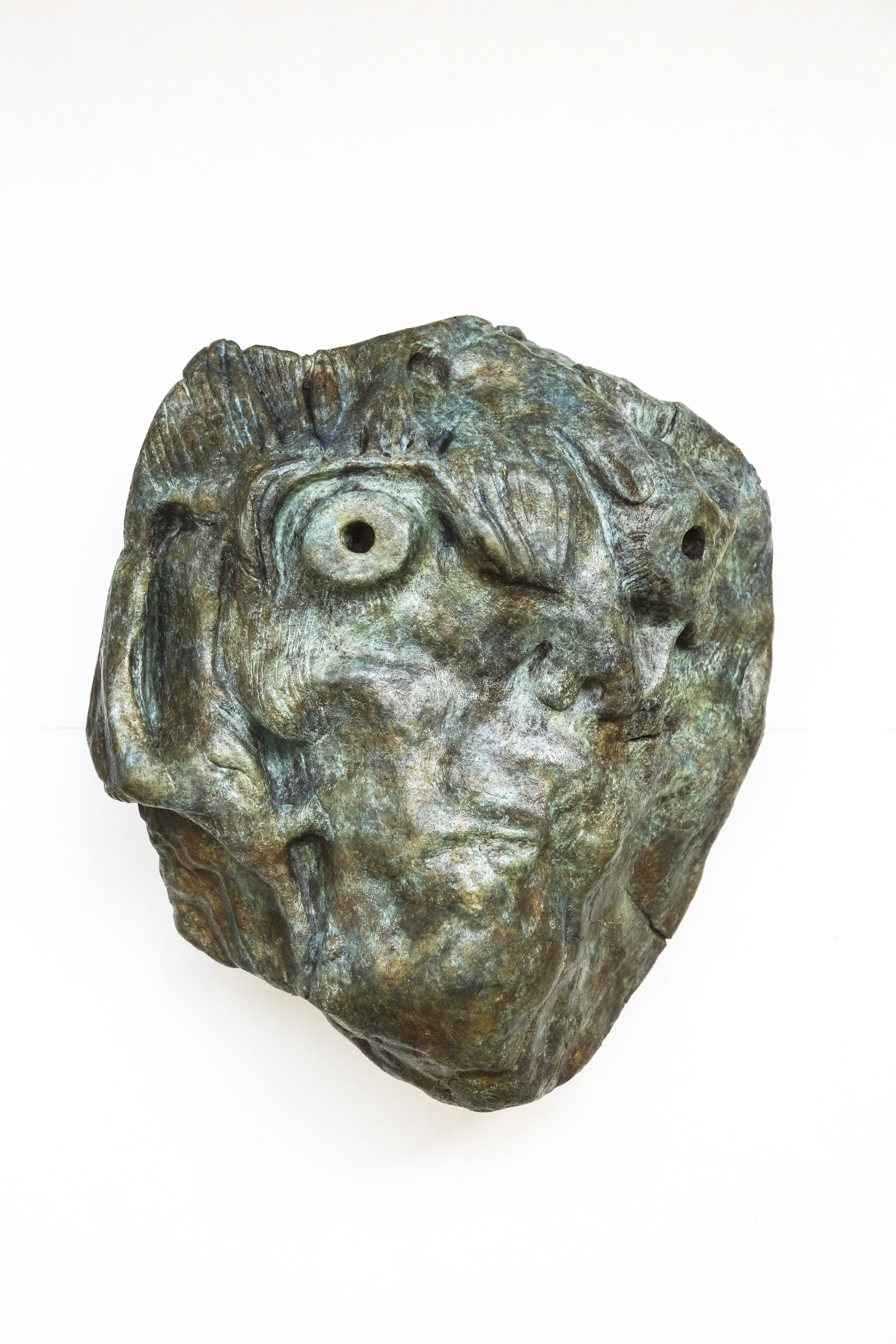 [FR]
«La vivianite est toujours dans un état de liminalité, un état d'entre-eux, sur le point de devenir quelque chose de différent ou de nouveau.» - Melonie Ancheta1
"« Partir, c'est mourir un peu. »2 Mourir, c'est vraiment partir et l'on ne part bien, courageusement, nettement, qu'en suivant le fil de l'eau, le courant du large fleuve. [...] Il n'y a que ce départ qui soit une aventure." - Gaston Bachelard3
Lors de notre échange téléphonique en avril dernier, depuis sa résidence artistique à Moly-Sabata (Sablons), l'artiste Alisha Wessler a évoqué un détail au sujet de la Galerie Tator : les murs du niveau inférieur de l'espace d'exposition sont rugueux et humides. Si tu passes ton doigt sur le mur, m'a-t-elle dit, des morceaux friables tombent dans ta main.
Cette image m'est restée en tête alors que nous parlions de l'ensemble des pièces qu'elle présentera. Une oeuvre dont la nature est imprévisible, poreuse comme les murs. Une oeuvre qui continue de se transformer même une fois achevée.
To Leave is to Die a Little est une série de sculptures et de dessins qui utilisent l'argile de la rivière d'Ain comme point de départ. L'argile était bleu vif et immergée dans l'eau lorsque l'artiste l'a trouvée par hasard lors d'une journée d'excursion, ce qui lui a fait penser à tort qu'il s'agissait de vivianite, un minéral relativement rare, connu pour son aspect bleu vif et sa nature transitoire. Cette confusion l'a amenée à découvrir la richesse poétique et historique de la vivianite. Par exemple, le minéral est le résultat de ce que l'on laisse derrière soi - «qu'il s'agisse de déchets humains ou animaux, de matière organique en décomposition, ou d'os et de tissus humains/animaux»4. Les cultures Haïda et Tlingit de la côte nord-ouest de l'Amérique du Nord utilisent depuis longtemps ce pigment pour délimiter l'espace liminal entre la vie et la mort.
Fruits d'extractions au cours de nombreux voyages et travaillées méticuleusement ces deux dernières années, les sculptures ont évolué de façon constante, non seulement sous la main de l'artiste mais aussi selon les lois de leur propre matérialité. Au fil du temps, une partie de l'argile bleu profond a perdu toute pigmentation, la couleur s'est diluée. L'artiste a également acquis une fiole de vivianite authentique. Elle a broyé la poudre, l'a mélangée à de la gomme arabique et appliquée comme pigment par endroits, pour faire revenir les bleus. Les dessins sont réalisés exclusivement avec le minéral bleu. Une sélection de céramiques cuites au four sont en effet dans un état figé, mais paradoxalement, l'argile bleue de rivière devient rouge à la cuisson et semble maintenant rouillée, altérée, comme si elle continuait à vieillir. L'utilisation d'oreillers et de draps comme dispositif d'exposition convoque également les notions de repos, de sommeil, de mort et de renouveau.
Ce corpus d'oeuvres, qui est une série d'investigations, parvient à échapper aux taxonomies connues. Au fur et à mesure que je prends connaissance des objets qui seront exposés, je m'aperçois qu'il m'est difficile d'identifier avec assurance ce que je vois. Un élément qui me semble être de l'argile de rivière cuite au four (comme rouillée) est en fait un champignon. Une sculpture que je prends pour de l'argile de rivière ayant perdu sa pigmentation est en fait une pierre taillée. Ces oeuvres me troublent, je n'arrive pas à cerner les matériaux utilisés ni le sujet représenté, qui se situe quelque part entre l'animal, le squelette, le biomorphique et le champignon. Curieusement, ce sont également les substances dont se compose la vivianite, comme si la nature liminale du minéral avait imprégné l'oeuvre. Ce glissement taxonomique, qui a également motivé les premières recherches de l'artiste, reflète des aspects fondamentaux de la vie : instabilité, imprévisibilité, précarité. Comme la vivianite, qui au départ est une matière morte en décomposition et qui émerge ensuite du sol sous la forme d'un minéral vibrant, le travail d'Alisha me rappelle un point important : la mort est aussi un substrat qui génère une matière première, un point de départ.
Traduction française du texte de Maggie Barrett, mai 2022.
1 "Revealing Blue on the Northern Northwest Coast", The American Indian Culture and Research Journal, Melonie Ancheta, vol 43, 2020, 19.
2 "Rondel de l'adieu", publié pour la première fois dans Seul, un roman en vers, Edmond Haraucourt, 1890.
3 "L'eau et les rêves : Essai sur l'imagination de la matière", Gaston Bachelard, 1942, 93.
4 "Revealing Blue on the Northern Northwest Coast", The American Indian Culture and Research Journal, Melonie Ancheta, vol 43, 2020, 19.
[EN]
"Vivianite is always in a state of liminality, a state in which it is in between, or on the edge of becoming something different or new." – Melonie Ancheta1
"'To leave is to die a little.'2 To die is really to leave and one only leaves well, courageously, clearly, by following the flow of the water, the current of the wide river. [...] There is only this departure which is an adventure." – Gaston Bachelard3
When we spoke on the phone from her residency at Moly-Sabata in Sablons, France, this April, artist Alisha Wessler mentioned a detail about Galerie Tator: the walls in the bottom level of the exhibition space are rough and wet. If you were to run your finger down one of them, she told me, bits of it would crumble off onto your hand.
This image stuck with me as we talked about the body of work she will present, which has a mercurial quality; like the walls, there is a porousness to it. It is transforming even when finished.
To Leave is to Die a Little is a series of sculptures and drawings which use Ain river clay as their initial point of departure. The clay was bright blue and submerged in water when the artist chanced upon it on a day trip from Lyon, causing her to mistakenly believe it was vivianite, a semi-rare mineral known for its vivid blue appearance and its transitional nature. This confusion led her down a path into the rich poetics and history of vivianite. For example, the mineral is the result of what is left behind—"whether it be human or animal waste, decomposing organic matter, or human/animal bones and tissue."4 The Haida and Tlingit cultures of the Northwest Coast of North America have a long history of using this pigment to delineate the liminal space between life and death.
Excavated over many trips and meticulously labored upon throughout the last two years, the sculptures have evolved steadily—not only by the artist's hand but also according to the laws of their own materiality. As time went on, some of the deep blue clay lost all pigmentation, the color leaching out. After acquiring a vial of true vivianite, the powder was ground and mixed with gum arabic and applied as a pigment in places, to bring the blues back. The drawings use the blue mineral exclusively. A selection of kiln-fired ceramics are indeed in a fixed state, but, paradoxically, the blue river clay fires to a red and now appears rusted, weathered, as though continuing to age. The use of pillows and bed linens as a display device further conflates the ideas of rest, sleep, death, and renewal.
This body of work, which is a series of investigations, manages to slip between understood taxonomies. As I engage with the objects to be shown, I find myself misidentifying what I see. One component that I initially identify as kiln-fired river clay (appearing rusted) is in fact a fungus. A sculpture that I think is river clay having lost its pigmentation, is actually carved stone. The work keeps me off balance; I cannot pin down the materials nor the depicted subject matter that resides somewhere between animal, skeletal, biomorphic, and fungal. Funny, that those are also the substances vivianite is made of, as though the liminal nature of the mineral imbued itself into the work. This taxonomic slipperiness, which also drove the artist's early research, mirrors fundamental aspects of recent life: instability, unpredictability, precarity. Like vivianite, which begins as dead and decomposing matter and emerges from the ground as a vivid mineral, Alisha's work reminds me of something important: deaths are catalysts that generate raw material, a point of departure.
Text by Maggie Barrett, May 2022.
1 Melonie Ancheta, "Revealing Blue on the Northern Northwest Coast," The American Indian Culture and Research Journal, vol 43, 2020, 19.
2 Edmond Haraucourt, "Rondel de l'adieu," first published in Seul, a novel in verse, 1890.
3 Gaston Bachelard,
Water and Dreams: An Essay on the Imagination of Matter
, 1942.
4 Ancheta, "Revealing Blue on the Northern Northwest Coast," 19.
http://
www.alishawessler.com
Photos © David Desaleux